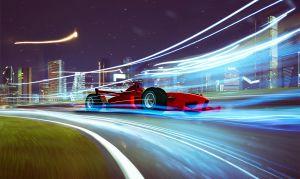 Animoca Brands' flash sale saw more than seven million of its new REVV token sold out in less than 20 minutes. The Hong Kong-headquartered publisher of mobile games also announced new games wherein the token can be used, as well plans for their gaming community and collectible platform.
Just three days since the new token was announced, the REVV website shows 7.5 million REVV tokens sold out in 20 minutes. Its total supply is 3 billion.
📢🔥📢🔥📢🔥📢 SALE IS ON 📢🔥📢🔥📢🔥📢

Go get your REVV now! 👉https://t.co/shJmXnbU6L 👈

😱Don't miss out – our flash sale sold out in 18 minutes!😱#animoca #F1 #blockchain #F1DeltaTime #NFT #gamers $REVV #gamedevelopment #racing

— REVV (@REVV_Token) September 4, 2020
Yat Siu, CEO at Outblaze and co-founder of Animoca Brands, said for Cryptonews.com that "Revv can be used right now for our time trial games and soon also to buy and trade our [non-fungible tokens] NFT and game assets."
F1 Delta Time's announcement – which goes into detail on REVV allocation, earning, utility, etc. – stated that, despite certain reports, staking is not available.
According to yesterday's post, REVV is listed on Chilliz exchange.
Furthermore, "more of our motorsports titles will be used and we may also expect to see collaborations across other well known tokens in this related space," Siu said. And speaking of which, the company has a number of plans for the near future, said the co-founder:
"Outside of SANDBOX we will soon also launch something with MotoGP and we also have plans for GAMEE one of the largest hyper casual gaming communities out there and QUIDD, the biggest digital collectible platform today with brands such as Marvel, Star Trek etc."
Animoca announced the acquisition of QUIDD in August last year, and the acquisition of GAMEE in July this year.
The company announced that their new REVV token would be available on major decentralized exchange protocol Uniswap, available for trade starting September 4.
Uniswap has become a growing, well-known platform at the centre of a great number of decentralized finance (DeFi) developments. It currently (11:53 UTC) has USD 681.01 million in daily trading volume (down 14.8% in 24 hours), as well as USD 1.59 billion in liquidity (down 16.15%). Per DeFi Pulse, Uniswap is the leading platform per total value locked – in its case USD 1.57 billion. It flipped the long-reigning Maker a short while back.
REVV's total liquidity on Uniswap is (at 13:01 UTC) USD 87,000 (down 11.64%), while its 24-hour trading volume is USD 265,586 (up 35%). Looking into the REVV-ETH pair, total liquidity is USD 174,229 (down 11,77%) while the volume in the last 24 hours is USD 247,385 (up nearly 20%). REVV's price is USD 0.0131, down 38.6%.
As for their choice of home for their token, so to say, Yat Siu said for Cryptonews.com:
"We saw the potential to launch REVV on Uniswap in part because of its recent growth but also the general interest and mindshare in Defi as our official F1 blockchain game together with the REVV token had already implemented concepts of staking and yield and trading of NFT assets. Launching first on Uniswap was not only contemporary but also very symbolic for us and REVV."
As the announcement explained, this new product is the main utility token and in-game currency used within Animoca Brands' blockchain games, specifically motorsports games. It will first be utilised in F1 Delta Time, followed by "an upcoming title based on MotoGP intellectual property, and a third title to be announced soon."
The token is designed to leverage the blockchain assets concept of interoperability, said the announcement. Via REVV, the above-mentioned motorsports games are expected to form an interconnected, shared economy, allowing the token to be used across multiple products. REVV will "encourage exploration" of the other games within the ecosystem, the announcement said.
"REVV has utility in not only powering games from a revenue standpoint but also becomes an incentive and rewards pool for players, increasing utility of REVV makes the experience more valuable and more relevant games that use it enhances both the utility and the value to players of REVV," Yat Sui said, adding that the whitepaper explains this concept in detail.
It's a fungible token, meant to complement the NFTs, which is the form in which the game content within the motorsport games is primarily provided.
Animoca Brands' goal with this, and other products, is furthering the NFT's and blockchain gaming narrative, and with it, adoption from those within and outside the crypto space, the co-founder suggested. He said:
"A big part of what we are hoping to see is a better and more defined narrative of the value of NFT's and blockchain gaming. We think it is the best onboarding approach for gamers who are not into crypto to come into crypto ie. mass adoption but we also need more adoption from crypto natives into the space. Less than 150,000 people have NFT's despite it being a 300 million dollar market (up from zero 2 years ago). Increasing more awareness of NFT's and blockchain games is a critical step in our view to help bringing in more mass adoption from non-crypto gamers as they see the value and benefit of this."
REVV is not the company's first token launch. SAND is already used within The Sandbox, the popular sandbox game for mobile phones, and it was listed on major crypto exchange Binance. A month ago, Animoca announced that The Sandbox would launch a USD 3 million sale of SAND on Binance Launchpad, the exchange's token launch platform.
Furthermore, just three days ago The Sanbox's partnership with Cloudco Entertainment, the owner of the Care Bears intellectual property, was announced. The collaboration aims to bring the Care Bears and their Care-a-Lot world to The Sandbox metaverse, said the company.
____
Learn more:
NFT Devs Build While Users Follow Ethereum Price & Wait For Better Products
Seller of USD 100K Virtual Car, Animoca, Bets Big on Blockchain
http://blindsignals.com/wp-content/uploads/2018/06/BlindSignals.png
0
0
Penny Wise
http://blindsignals.com/wp-content/uploads/2018/06/BlindSignals.png
Penny Wise
2020-09-05 21:30:00
2020-09-05 21:30:00
Animoca Sells Out 7.5m of New REVV in Minutes, Announces Further Plans