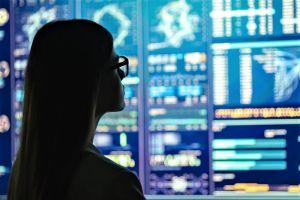 Source: iStock/Artem Peretiatko
With stock markets globally selling off sharply due to renewed fears of coronavirus outbreak outside of China, many market players are now scratching their heads over bitcoin's price reaction, putting into question the much-discussed bitcoin-as-a-safe-haven narrative.
As of press time on Tuesday (11:51 UTC), bitcoin (BTC) trades at c. USD 9,575 and is down 2.3% over the past 24 hours. Meanwhile, the widely followed U.S. stock index S&P 500 was down 3.35% yesterday, while the traditional safe-haven asset gold was up by 2.8% at the most, before falling back and ending the day about 1% higher.
The theory that cryptoassets in general, and bitcoin more specifically, is a safe-haven that can protect against risks in the traditional financial system has been thrown around among crypto enthusiasts for years already. However, the idea has appeared to gain traction lately, after events like the U.S. missile strike in Iran and virus fears in China led the price of the digital asset to surge as stocks fell across the world.
Following yesterday's sell-off in both stocks and bitcoin, however, the theory is once again up for discussion, with both sides throwing in their arguments in support of their position.
"Cryptoassets were much more durable during the market sell-off and although not making any significant ground, bitcoin has held just above the USD 9,500 mark. This time around we didn't see a 'safe-haven' rally for bitcoin and investors made the more traditional move into gold. On a day where many markets had their worst day for several years, it's encouraging to see that cryptoassets held relatively firm at least," Adam Vettese, a market analyst at eToro, wrote in his newsletter today.
Meanwhile, Mati Greenspan of Quantum Economics made a case for those who believe that bitcoin still should be considered a "risk asset," meaning that it moves in correlation to stocks, by posting a chart that showed the close correlation yesterday:
Check out this short term graph showing #bitcoin getting a critical bounce at the exact same moment as the US stock… https://t.co/lJE8LWsJRn

— Mati Greenspan (@MatiGreenspan)
Responding to the tweet, however, one user noted that "bitcoin does not seem to act consistently as either a risk-on or risk-off asset."
Watch the latest reports by Block TV.
Meanwhile, Dovey Wan, a founding partner of California-based investment company Primitive Ventures, said that bitcoin should be seen as a safe-haven in "the LONG term, not a day trade hedging."
Bitcoin is moving with risky assets is totally expected for its current stage, it's by far still considered as an a… https://t.co/jOEnS9IyuS

— Dovey 以德服人 Wan 🪐🦖 (@DoveyWan)
http://blindsignals.com/wp-content/uploads/2018/06/BlindSignals.png
0
0
Penny Wise
http://blindsignals.com/wp-content/uploads/2018/06/BlindSignals.png
Penny Wise
2020-02-25 19:57:42
2020-02-25 19:57:42
Bitcoin's Safe Haven Status Questioned as Selling Hits Stocks, Crypto