In the week of bulls, bitcoin not only touched the USD 20K level, but it shot right past it, and towards USD 23K, and over it. It's much appreciated (pun intended). As more people are interested in buying BTC and ETH than selling them, Bitcoin bulls and bears listed the reasons why they think the price will rise or drop by 2030, MassMutual's bitcoin purchase might attract fresh billions to the number one crypto, and exchanges reportedly sent more bitcoin transfers worth USD 1m or more in 2020. Meanwhile, ETH 2.0 will have another question to answer eventually – and it's about taxes. An attacker stole more than USD 8.2m from the founder of Nexus Mutual, and after Ledger, the scammers are targeting Trezor users. Also, PayPal invested in Paxos, while a massive Google outage showed why decentralization is better.
In the meantime, Coinbase confirmed its IPO preparations, the FCA launched a program for registering crypto companies waiting to obtain approval permits, the ECB once again opened the door to some form of private-sector collaboration as it "intensifies" its work on the digital euro, Sberbank urged the Russian Central Bank to reconsider their digital ruble issuance plans, and Venezuelans used a blockchain-powered platform in an unofficial anti-Maduro referendum. While a Chinese state-run media outlet surprised the Cryptoverse with bold predictions on BTC's future, the mainstream media all over the globe once again went gaga for crypto. SDX Head of Business told us that several Swiss banks are already 'ready to go' upon the crypto gateway launch, an Ukrainian oligarch had reportedly launched a crypto mining operation at a troubled US steel processing factory, Latin America's most prestigious university will add a course that reportedly covers crypto and blockchain, and Megan Thee Stallion offered her 5m followers a USD 1m bitcoin giveaway through a Cash App partnership.
The news section over, the jokes section may begin.
________
The Cryptoverse trained for this for years.
race to 20k pic.twitter.com/UpYmImuOxk

— nic carter 🟩 (@nic__carter) December 15, 2020
__
Then, just a day ago, it came a-knockin'…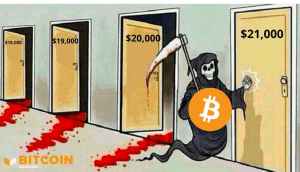 __
It was a tough battle.
You got this today #Bitcoin pic.twitter.com/xHYJcYPFnP

— Blackbeard (@crypto_blkbeard) December 16, 2020
__
And then it was like: weeee!!
__
'And now it's above 23Keeeey!"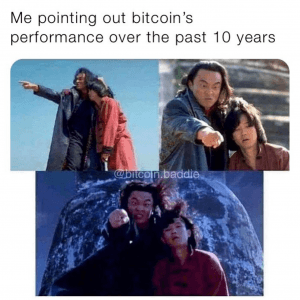 __
Time to set goals.
My Bitcoin price target is $238,855. I arrived at this price target by googling the distance between the earth and the moon and converting it from miles to dollars.

— KING CO฿IE 🌙 (@CryptoCobain) December 16, 2020
__
With this rally on the way, we're all about to have one of these.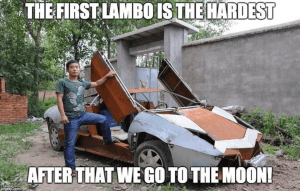 __
'I just want to enlighten you, damnit!"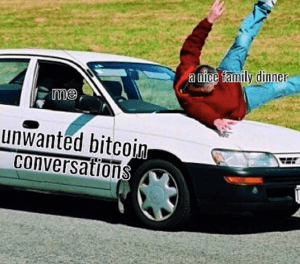 __
Now we're talking…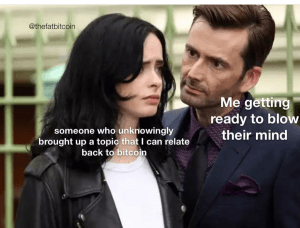 __
Heey, yeaah! We're welcome again. For now.
Good to know that every single family/friend that i have brainwashed about bitcoin is now in profit.

Perhaps this may be the first Christmas dinner since 2017 that i can go to. pic.twitter.com/weBGdqNv5E

— yTedd (@TeddyCleps) December 17, 2020
__
And a moment of silence for all those we weren't able to convince.
— hackerbot (@hackerb0t) December 7, 2020
__
Not looking so mad now, eh?
Telling your friends you put everything into #bitcoin at $3,200 vs $19,500 pic.twitter.com/y3YQ8Sqc8B

— AMERICAN HODL (@AMERICANHODL2) December 15, 2020
__
The passage of time. Of price. I meant to say the appreciation of price.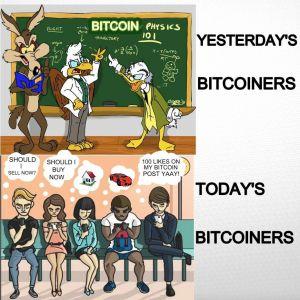 __
It makes all of the senses!
The dev team behind all the food farming tokens doxed pic.twitter.com/YZq7DAimNV

— Tari (@tari) December 16, 2020
__
Such a confused little mutual fund manager. Genuinely has no idea.
mutual fund manager watching crypto fund manager be like pic.twitter.com/h5B23ZHaGB

— Matthew Graham (@mattysino) December 15, 2020
__
Look, they just wanted a successful crypto company. Is it too much to ask to get off their backs with details.
When your start a crypto company but haven't figured out the use case pic.twitter.com/jLU5doyUIp

— Hailey Lennon (@HaileyLennonBTC) December 15, 2020
__
Fool.
US Dollar trying to knock Bitcoin out of its' lead in global currency adoption from r/Bitcoin
__
Bitcoin don't give a shitcoin!
#Bitcoin vs Haters 🔊 pic.twitter.com/1D39jg1Ua1

— yellow pop cat (@ICOffender) December 16, 2020
__
Speaking of shitcoins, what kind of an unnatural trade is this?
When God sees people buying Shitcoins with their #Bitcoin 🤷🏻♂️ pic.twitter.com/WJMb95b3BB

— RD ₿TC (@RD_btc) November 25, 2020
__
And a totally deserved, celebratory, weekend, crypto song.
[embedded content]
http://blindsignals.com/wp-content/uploads/2018/06/BlindSignals.png
0
0
Penny Wise
http://blindsignals.com/wp-content/uploads/2018/06/BlindSignals.png
Penny Wise
2020-12-19 19:00:00
2020-12-19 19:00:00
High Spikes, Higher Jumps, Highest Bulls and 20 Crypto Jokes