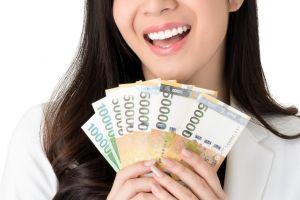 Source: iStock/Kritchanut
Barely a day goes by without news coming out of South Korea's cryptocurrency exchanges. The country has a wide array of trading platforms, mostly based in the affluent Gangnam region of Seoul, housed in plush, shiny new office buildings.
But in this hyper-competitive, super-trendy trade, who pays the biggest salaries? Who hires the most staff? And is working at a South Korean trading platform as glamorous as it sounds?
A survey from South Korean HR company Incruit, and shared by media outlet Sports Seoul, would appear to answer at least some of those questions.
The HR firm conducted research into the country's five biggest exchanges: Bithumb, Upbit, Coinone, Korbit and Gopax, and found that Bithumb pays the highest wages and employs the highest number of staff.
Incruit says the average wage for a Bithumb staff member is USD 49,700 per year. Korbit is the second-highest payer, with average salaries of USD 49,000 – with Upbit staff making an average of USD 48,300 a year.
Bringing up the rear were Gopax, which pays an average of USD 42,600 per annum and Coinone, paying just over USD 41,000 a year.
The average wage for South Koreans, per government-released statistics from 2016, is around USD 35,300 per year. Mid-level tech jobs in Gangnam typically pay upward of USD 42,000 a year.
The recruiter added that there were plenty of benefits and perks associated with working at a major South Korean exchange, including free or subsidized gym membership, free meals and snacks and flexible working hours.
Watch the latest reports by Block TV.
The HR firm revealed how many members of staff each company has. The results were as follows:
Bithumb 230
Upbit 150
Coinone 117
Gopax 70
Korbit 45
The report's authors also stated that the industry as a whole had been suffering due to falling cryptocurrency prices, but noted that most exchanges were still actually looking to hire more staff, with most major exchanges diversifying their business offerings, and meeting fast-changing compliance requirements.
__
Learn more: Landing a Job in Blockchain: What Employers Look For
http://blindsignals.com/wp-content/uploads/2018/06/BlindSignals.png
0
0
Penny Wise
http://blindsignals.com/wp-content/uploads/2018/06/BlindSignals.png
Penny Wise
2020-01-09 00:18:04
2020-01-09 00:18:04
How Much Do South Korean Cryptocurrency Exchange Employees Make?