Let's see what happened this week in the Cryptoverse. Matic and some other Binance IEOs rallied, but then Matic droped a nightmarish 66%, seeing even Binance investigating it; Tezos entered the Top 10 club; Zcash prepared for Blossom, but then XRP became the only green one; BTC dev says that the new ETH solution is not new, and MakerDAO's major loophole was exposed, yet Maker didn't move.
Then we learned that BitMEX is being sued, while accusations against a South Korean exchange pile up; OKEx announced options trading on the day CME started testing theirs, Amun AG got the regulatory green light to expand its crypto ETP offering in the EU, ShapeShift denies claims by Kraken that KeepKey can be hacked in 15 minutes; upon his return, Bitmain's Wu Jihan announced a series of measures aimed at boosting BTC mining industry; and Shopin, which was hit with a civil fraud wrap, promotes its token sale.
China's central bank is preparing to test the digital yuan, with a pilot launch being "imminent"; Chinese city named as digital Yuan testbed launches blockchain ID; more than 80 Japanese banks are interested in joining JPMorgan Chase's blockchain-based payment information network; Central banks in the Eurozone are turning their attention to digital fiats; the 'centralest' of banks releases 12 design elements for a wholesale token; three men were arrested for connections to a Ponzi scheme; exit scam fears were prompted by a major darknet site ICO promising 700% growth in 6 months, and Twitter launched bluesky aimed at developing a "decentralized standard for social media." Finally, we've met the world's fastest and the only four-legged Cryptocurrency.
After a long week, let us unwind with some jokes now.
__________
A standard disclaimer for the beginning.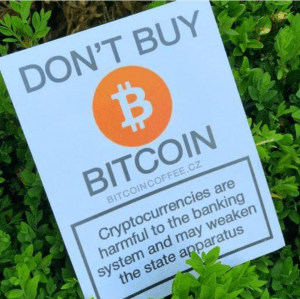 Source: cryptoplayhouse / Instagram
__
When you're not quite sure what to do with yourself.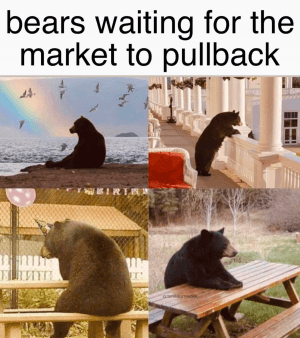 Source: terribletrader / Instagram
__
There's just so much wrong here. But I do want to make more risks…
Bitcoin's journey through 2019 pic.twitter.com/EtcNWle5tN

— The Crypto Dog📈 (@TheCryptoDog) 11 December 2019
__
Ough! I estimate it to be a 66% drop.
Matic hodlers be like…$MATIC pic.twitter.com/TuTNFgUtIV

— Aldrich "ALT-RICH" OKEx (not giving away OKB) (@_altrich_) December 10, 2019
__
Let's see how crypto affects us.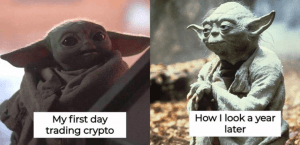 Source: u/changelly_com / Reddit
__
Any more side effects?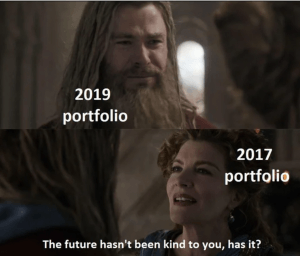 Source: u/RustedFromTheRain_ / Reddit
__
Them alts be mad.
Alts on 2019… pic.twitter.com/Z4s6mNA0gj

— Panama Crypto (@Panama_TJ) 1 December 2019
__
But this is your entire week nonetheless.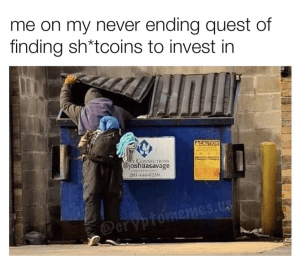 Source: cryptomemes.us / Instagram
__
And this is how that week usually ends.
Everytime I see one of the fellas tweet a trend shift with #Altcoins

Let's go!!!!
oooof. pic.twitter.com/BPg0jPLjNE

— Nick Core 🏆 (@Crypto_Core) December 11, 2019
__
You can never be too careful.
Double checking your public address before broadcasting a BTC transaction pic.twitter.com/oVrAZzUkNk

— ₿rekkie [Jan/3➞₿🔑∎] (@BVBTC) 11 December 2019
__
Easy-breezy and full of sense.
Talking with "#blockhain not #bitcoin" crowd: pic.twitter.com/v8xnWO52Ze

— Eimantas Žemaitis ☯ 🔑🌏 (@e_zemaitis) December 12, 2019
__
"Bitcoin can't sell your data because 1PNjPRufEecviDDhVT2zqg4J2A7PBT8Bz9 is all it knows about you." And it saves the trees!
If you can open-source code and design, you can open-source copywriting. Here are 500 headlines about bitcoin. Use them wherever you want. Or don't. I don't care. https://t.co/J8xXhWvJQj

— knight in shining sweatpants (@kenisajerk) December 10, 2019
__
When November decides to spill over into December.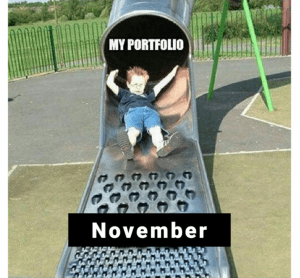 Source: u jaggedsoft / Reddit
__
There are many things in the cryptoseas we can't see.
"I am in cash & I will buy at 3k" sellers don't even realize what is happening pic.twitter.com/phCOGqcbia

— Nick Core 🏆 (@Crypto_Core) December 9, 2019
__
When you have both bitcoiners and XRP army in the family, this happens.
Source: u/JustLearnCrypto / Reddit
__
And you get this as a response.
Bitcoin maximalists getting ready for their day pic.twitter.com/LQaA4Dqof3

— icebergy ❄️ (@icebergy_) December 11, 2019
__
I've got no clue…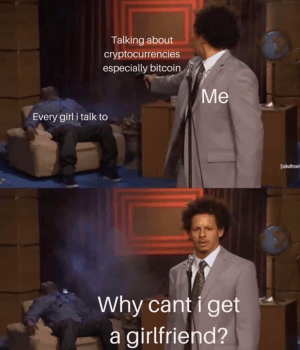 Source: u/fittes / Reddit
__
Just roll with it. Or rather in it.
The moment you buy a shitcoin after it was shilled for weeks

— TEDDY ⛓️📉 (@teddycleps) December 6, 2019
__
Over the Christmas trees and to the moon! (It won't melt, right?)
__
A special holiday song to go with that beautiful sculpture.
🎶last Christmas, i gave you some sats but the very next day you sold it away

this year, to save me from tears
i'll give it to someone special🎶

— Lolli 🍭 (@trylolli) 11 December 2019
http://blindsignals.com/wp-content/uploads/2018/06/BlindSignals.png
0
0
Penny Wise
http://blindsignals.com/wp-content/uploads/2018/06/BlindSignals.png
Penny Wise
2019-12-14 19:00:00
2019-12-14 19:00:00
Market Shrugs, Price Nightmares and 20 Crypto Jokes