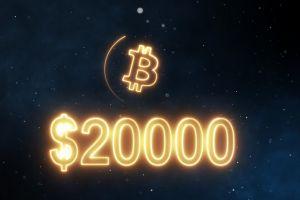 It finally happened on December 16th, 2020. The most popular cryptocurrency, bitcoin (BTC) just revisited the USD 20,000 level for the first time since December 17th, 2017, when it touched USD 20,089.
At pixel time (13:49 UTC), BTC trades at more than USD 20,150 on Binance, HitBTC, Coinbase Pro, and Bitstamp. Later (14:08 UTC), the average price on exchanges surpassed USD 20,310.
After crashing to almost USD 3,000 in December 2018, BTC started its series of hitting all-time highs (ATH) only in November this year, almost touching USD 20,000 on the first days of December and later correcting to almost USD 17,600.
BTC price chart: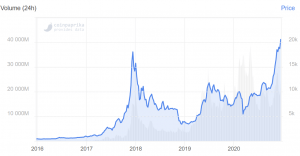 ___
The price is up by around 80% in the past 3 months and around 190% in a year.

"We have a new line in the sand and the focus shifts to the next round number of USD 30,000," Antoni Trenchev, Co-founder and Managing Partner of crypto lender Nexo, told Bloomberg. According to him, this "is the start of a new chapter for Bitcoin. It's a narrative the media and retail crowd can properly latch onto because they've been noticeably absent from this rally."
"Whether the next big resistance will be at USD 50,000 or USD 500,000 is anyone's guess but we firmly believe the risk/return is skewed to the upside," Trenchev recently told Cryptonews.com.
"It's very likely bitcoin will reach USD 100,000 in 2021 just based on corporate and institutional demand alone. We're seeing sustained demand for hosting of miners as well, which usually indicates bullish trends in mining from months ago," Blockstream's Chief Strategy Officer Samson Mow, recently told Cryptonews.com.
Mow isn't the only one touting this benchmark. Also pointing towards institutional and corporate demand, Quantum Economics analyst Lou Kerner thinks bitcoin will increasingly eat into gold's share of the store-of-value market next year.
Meanwhile, Tim Rainey, the Chief Financial Officer at powerplant-cryptomining hybrid Greenidge Generation, said he believes that "the price could easily reach the USD 25,000-USD 30,000 range" next year.
"Unlike the 2017 bubble, bitcoin's latest price rally is driven by stronger fundamentals — institutions saving reserves in cryptocurrency or integrating cryptocurrencies into their services," he told Cryptonews.com.
___
Other reactions:
#bitcoin $btc

— CryptOrca (@CryptOrca)
If $20,000 #Bitcoin price is more important to you than the past few weeks in the $19,000 range with good liquidity… https://t.co/9akVeUuOtE

— Gabor Gurbacs (@gaborgurbacs)
A mere 2 months ago you could get 10,000 sats for a buck. Today that will barely buy you 5,000 sats.

— Jameson Lopp (@lopp)
I don't want to see more memes about 20k

— Udi Wertheimer (@udiWertheimer)
___
Learn more:
Exchanges Send More USD 1M Bitcoin Transfers as Investors Look For a Hedge
Bitcoin, Ethereum, XRP, Bitcoin Cash, Litecoin, Chainlink Price Predictions for 2021
Crypto in 2021: Bitcoin To Ride The Same Wave Of Macroeconomic Problems
Bitcoin Bulls and Bears List Reasons Why Price Will Rise or Drop by 2030
MassMutual's Example Might Attract Fresh Billions To Bitcoin – JPMorgan
Morgan Stanley Exec Says Bitcoin is Coming for the US Dollar
This Bitcoin Cycle Is 'Right On Track' With 'Striking Similarities'
Did Ray Dalio Just Say You Should Buy Bitcoin?
6 Most Common Misconceptions About Bitcoin Picked by Lyn Alden
___
(This article was updated at 14:08 UTC to add quotes from Antoni Trenchev, update price data.)
http://blindsignals.com/wp-content/uploads/2018/06/BlindSignals.png
0
0
Penny Wise
http://blindsignals.com/wp-content/uploads/2018/06/BlindSignals.png
Penny Wise
2020-12-16 21:47:00
2020-12-16 21:47:00
The Big Comeback of 2020: Bitcoin Revisits USD 20,000