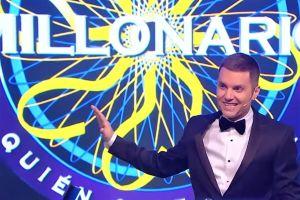 The Argentinian edition of TV game show Who Wants to Be a Millionaire. Source: a video screenshot, Youtube, Telefe
Crypto Briefs is your daily, bite-sized digest of cryptocurrency and blockchain-related news – investigating the stories flying under the radar of today's crypto news.
Adoption news
Contestants taking part in the Argentinian edition of TV game show Who Wants to Be a Millionaire? were quizzed on their knowledge of cryptocurrencies. Per Criptotendencia, two contestants were asked to state which of the following four was not a cryptocurrency: Petro (PTR), Bitcoin (BTC), Vencum or Ethererum (ETH). The question, which could have scooped the contestants USD 2,250, flummoxed the Argentine pair. They stated that they only recognized Bitcoin. They then decided to phone a friend – who was also unable to answer – and then cashed out rather than attempt an answer!
Burger King Venezuela has partnered with Cryptobuyer, per a tweet from the latter company – a Latin American crypto trading platform with a strong presence in Venezuela. Cryptobuyer says the move will allow Burger King customers in the country to pay for their food and drink in Bitcoin, Dash (DASH), Binance Coin (BNB), Litecoin (LTC), Ethereum and Tether (USDT).
Terra has launched its Chai blockchain-powered pay platform at South Korean convenience store chain CU with up to 15% in discount offers, reports News1. Customers paying with Chai will be entitled to cashback payouts of up to USD 4 on their first payments of over USD 8.5, with up to 10% cashback available on further payments.
South Korean media outlet Fn News says big things are ahead for Kakao's forthcoming crypto wallet, Clip, which is set to roll out to some 50 million+ South Korean KakaoTalk users in the first half of this year. The news outlet also predicts a big year for blockchain gaming, with industry giant WeMade looking to commercialize major blockchain game titles in the next few months.
Google allowed Ethereum wallet and decentralized app (dapp) browser MetaMask's Android client back to its Google Play app store. As reported, Google suspended MetaMask a week ago. The permission came "after careful cosideration," says MetaMask, adding that the return of the client with more than 50,000 installs to the app store means that they are now listed in all the major places they try to publish.
Blockchain startup WiCrypt came second with a NGN 2 million (USD 5,500) funding on the final list of 25 technological innovators by Nigeria Communication Commission (NCC) released at a three-day Innovation Competition and Exhibition, said the NCC. WiCrypt is a blockchain startup offering WiFi Hotspot Sharing services allowing subscribers to make money sharing their mobile data. The founder, Ugochukwu Aronu from Enugu state in Nigeria, said that WiCrypt will help Nigerians earn money online using and sharing their mobile data.
Mark Hipperson, former co-founder and chief technology officer at Starling Bank, is planning the 2020 launch of his new digital banking venture Ziglu, which allows customers to transfer funds between fiat money and cryptocurrencies, Fintech Futures reported.
Mining news
Argo, a listed UK-based provider of enterprise-scale crypto-mining services, appointed Peter Wall as the company's chief executive officer with immediate effect. He was a member of the management team that founded Argo and has been Vice President of Operations since then. Also, the company claims it is on track to operate a total production base of approximately 17,000 machines, or 640 petahash, by the end of the first quarter of 2020, increasing the company's total mining capacity by 204% from its current base.
Gaming news
A massive fire in a room full of computers running online crypto games has devastated a South Korean shopping center, causing around USD 12.9 million worth of damage. Newsis reports that some 200 devices in an upper floor of the shopping center appear to have been left unattended and were set up to automatically accrue in-game items that can be traded for cryptocurrency. One or more of the devices may have short-circuited or overheated, sparking the devastating blaze.
Cryptocurrency exchanges news
The KuMEX platform, the bitcoin futures platform developed by crypto exchange KuCoin, announced the launch of a new Lite version that comes with a simpler interface, and that will mostly focus on core trading experience. The changes include: the interface changed from candlestick charts to line charts; the order book and recent traders have been hidden; to place an order, users now just need to input the order amount in the trading interface, and decide on the leverage and the long/short position; users need to input the amount of money need instead of the slot number; and the analytic tools have changed as well.
Regulations news
The International Monetary Fund (IMF) has recommended to the Philippines' central bank (BSP) to consider the possibility of starting to collect data on crypto exchanges for its macroeconomic analysis, especially on the cross-border flows of crypto assets. Per a Technical Assistance Report, the Philippines may become an important market for crypto-assets, as the BSP recently authorized operations for three additional virtual currency exchanges, with their total number now being 10. Therefore, says IMF, the BSP should request from these exchanges aggregated data on gross transactions on a quarterly basis, which should indicate the country of origin and destination of the funds transacted, while it'd be best if it included the parties involved in transactions between individuals, financial and non-financial corporations.
Security news
The Ethereum wallet ShitcoinWallet is a scam – it steals passwords and private keys for crypto wallets, which allows access to user's cryptocurrencies, claims Harry Denley, director of security at wallet company MyCrypto. He says that this Chrome extension contained a malicious code which endangers all the funds within the wallet by stealing these information and sending it to a third-party website. However, it also injects malicious JavaScript code when users visit certain platforms, stealing login information and private keys, again sending it to the third-party website. The company behind the wallet did not comment on the matter yet. Meanwhile, the Chrome extension is not available now.
DeFi news
The Maker Foundation announced that the Maker and Dai trademarks portfolios have been transferred to the newly formed Dai Foundation, with assignment of open-source software intellectual property (IP) for Maker Protocol components to follow. The blog post says that this is another step toward enabling the Maker Protocol to function independent of the Foundation, and it comes after the launch of Multi-Collateral Dai (MCD) and the transfer of MKR token control from the Maker Foundation to the governance community, all according to the plan of gradual decentralization (the Maker Core Foundation Principle).
http://blindsignals.com/wp-content/uploads/2018/06/BlindSignals.png
0
0
Penny Wise
http://blindsignals.com/wp-content/uploads/2018/06/BlindSignals.png
Penny Wise
2020-01-02 23:02:00
2020-01-02 23:02:00
This Crypto Question Stumped TV Quiz Show Contestants + More News