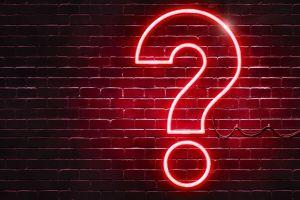 Just a day after Cryptonews.com brought you news of the Argentinean government's publication of a somewhat surprising guide to buying, trading and storing bitcoin (BTC), ethereum (ETH) and other major altcoins, it appears that Buenos Aires has had second thoughts – and has apparently pulled its guide from the net.
Although the URL for the guide – named "What are Cryptocurrencies?" is still live, following the link no longer brings you to a page that once suggested that crypto was a way to "save money," and put forward "localbitcoins.com" as a platform for making BTC and altcoin purchases.
Instead, the page is listed as having a 500 error – HTTP code for when a server detects that something is wrong but cannot specify on the exact nature of the problem.
Now, instead of top Argentinean Ministry of Justice and Human Rights-compiled tips about wallet safety and avoiding bogus-looking crypto trading apps, all that is left is this message:
"This page or site is not available. Please check the address or try again later."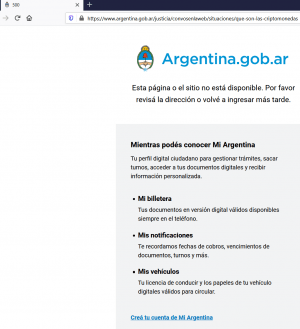 Bitcoin and altcoin trading in Argentina has skyrocketed this year, with many citizens looking to safeguard their savings and assets from spiraling fiat inflation.
However, the government has not proven to be anti-crypto thus far, and has not yet taken any steps to close down peer-to-peer trading or tighten its regulation of crypto exchanges – instead imposing a 15% tax rate on crypto trades.
Cryptonews.com has contacted the ministry for comment and will update this article if and when a response is forthcoming.
____
Learn more:
Bitcoin Is Not Just a Dollar Gateway in Argentina
Hackers Attack Telecom Argentina, Demand USD 7.5m In Monero
Argentina, Venezuela Seek Crypto-powered Solution to Economic Despair
Argentinian Provinces Mull Stablecoin-powered Answer to Financial Mess
http://blindsignals.com/wp-content/uploads/2018/06/BlindSignals.png
0
0
Penny Wise
http://blindsignals.com/wp-content/uploads/2018/06/BlindSignals.png
Penny Wise
2020-08-14 07:00:00
2020-08-14 07:00:00
Where Did the Argentinean Government's Guide to Bitcoin and Ethereum Go?